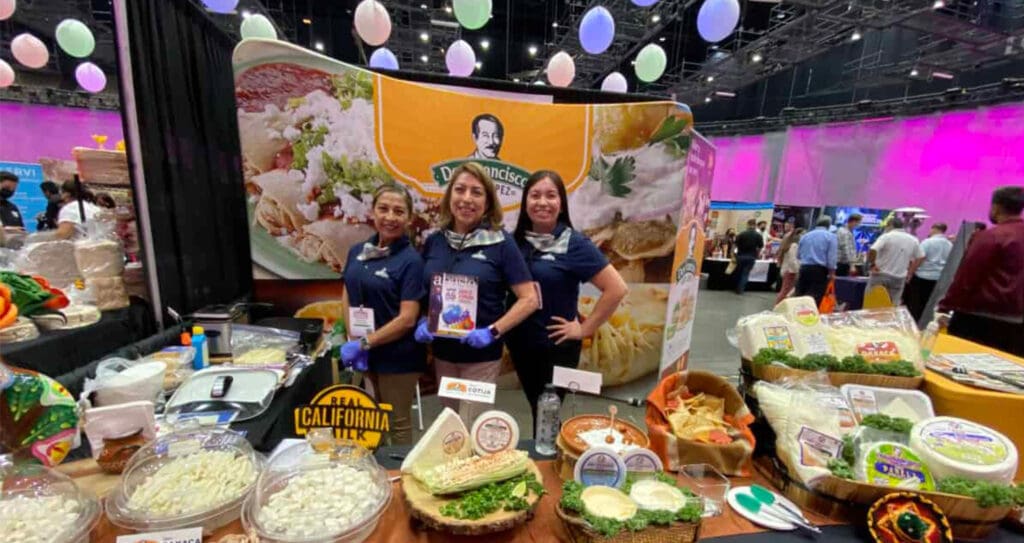 New York, NY (February 7, 2023) – Emerald Holding, Inc. today announced it has acquired Cocina Sabrosa Food & Beverage Trade Expo, the only business-to-business (B2B) event in the US solely dedicated to the Latin food and beverage sector. Formerly a regional event in Southern California, Cocina Sabrosa will be enhanced and expanded to create the first US-based, national Latin food and beverage industry event serving restaurateurs, grocers, suppliers, and entrepreneurs within the growing business segment.
The acquisition of Cocina Sabrosa Food & Beverage Trade Expo represents another important step in Emerald's portfolio optimization strategy by strengthening the Company's food and beverage portfolio of leading brands, including International Pizza Expo, International Artisan Bakery Expo, and SIAL  America, which is co-produced with industry partner Comexposium.
Emerald's expansion within the Latin market is aligned with the company's focus on business sectors with high growth potential. According to research by Nielsen, the Hispanic market represents $1.9 trillion in buying power in 2023, an increase of 87% over the last decade.  This sector also accounts for 50% of the growth in the US Food and Beverage Industry between 2005 and 2020, and was valued at $21 billion at the end of that period, according to data released by Statista.
Serving as the only US business hub for the Latin food, beverage and retail industries, Cocina Sabrosa will create new opportunities for retail industry professionals to discover emerging trends and new suppliers from a comprehensive offering of food and beverage products, equipment, technology, and professional service providers. Equally, Latin food and beverage suppliers will now have access to a new, focused audience of retailers, allowing for business growth, increased sales, and market share.
The Cocina Sabrosa Food & Beverage Trade Expo 's inaugural national debut is taking place on September 27-28, 2023, at the Irving Convention Center in Irving, Texas.
"It's an honor and privilege to work alongside Abasto to launch this premiere nationwide event, which will drive new business and educational opportunities for the passionate, rapidly growing Latin food and beverage community," said Andrea Fletcher, Cocina Sabrosa Brand Leader. "Between Emerald's expertise in building connected communities and Abasto's industry knowledge and relationships, we'll be perfectly poised to deliver the resources, content, and connections Latin food service leaders need to prosper."
In addition to supporting commerce and discovery opportunities, Cocina Sabrosa Food & Beverage Trade Expo will also showcase a conference program and other unique educational opportunities from food and beverage tastings and service demonstrations to professional training, sales, and marketing seminars. More detailed information on scheduled programming will be released in the coming months.
"We have been envisioning a national Latin food and beverage event for some time by creating an event that will bring our partners and readers together under one roof," said Gus Calabro, Director of Abasto Media. "There is high demand within this segment to create an event like this and partnering with a world-class company and leader in the events industry like Emerald is now making this a reality."
For information on becoming an exhibitor, sponsor, or speaker, contact andrea.fletcher@emeraldx.com.
About Cocina Sabrosa
Cocina Sabrosa Food & Beverage Trade Expo is a place for inspiration, education, networking, and business transactions. We bring together the Latin Food and Beverage ecosystem through community and commerce. Cocina Sabrosa is where grocers, manufacturers, equipment companies, restaurants, investors, influencers and champions gather for the common goal to grow and elevate the Latin Food and Beverage industry, its professionals and the community at large. To learn more, please visit www.stg-cocinasabrosaexpo-staging.kinsta.cloud.
About Emerald
Emerald's talented and experienced team grows our customers' businesses 365 days a year through connections, content, and commerce. We expand connections that drive new business opportunities, product discovery, and relationships with over 140 annual events, matchmaking, and lead-gen services. We create content to ensure that our customers are on the cutting edge of their industries and are continually developing their skills.  And we power commerce through efficient year-round buying and selling. We do all this by seamlessly integrating in-person and digital platforms and channels.  Emerald is immersed in the industries we serve and committed to supporting the communities in which we operate.  As true partners, we create experiences that inspire, amaze, and deliver breakthrough results. For more information, please visit www.emeraldx.com.
About Abasto Media
Established in 2008, Abasto Media is committed to helping businesses in the food and beverage industry increase their marketing efforts and achieve a competitive edge through comprehensive print and digital marketing solutions. An award-winning publication, Abasto started as a single print publication and has blossomed into a full-service print and digital marketing platform that serves companies worldwide. Today, thousands of active clients and readers from the United States, Mexico, and LATAM find in Abasto a path to success. As we grow, we continue to improve our processes, invest in our people and provide our readers and partners with top-notch services.
Media Contact: 
English
Katie Genovese
katie.genovese@emeraldx.com
Spanish
Anita Grace
agrace@abasto.com