Dia de los Muertos, or Day of the Dead, is more than just a holiday; it's a cultural tapestry woven with history, tradition, and spirituality. Originating in the heart of Mexico, this vibrant celebration has deep roots that extend back thousands of years to pre-Columbian Mesoamerican civilizations, particularly the Aztecs, Toltecs, and other indigenous groups. But what's truly fascinating is how this Mexican tradition is gaining immense popularity across the United States, and Latin food and beverage businesses are playing a pivotal role in making it happen.
A Cultural Connection
Latin food and beverage businesses in the USA are not just places to savor delicious dishes but also bridges that connect Latinx individuals with their cultural heritage. During Dia de los Muertos, these establishments take on a unique role, helping the community maintain a strong connection to their roots.
Flavors of Tradition
One way to truly engage your customers during Dia de los Muertos is by offering traditional dishes that pay homage to this meaningful holiday. Delight your patrons with authentic delicacies like Pan de Muerto, tamales, and mole. By incorporating these traditional recipes into your offerings, you create a genuine cultural experience that resonates with both Latinx customers and those seeking an enriching culinary journey.
Pan de Muerto is a main element in the altars and offerings in the festivity of the day of the dead.
Uncovering the Historical Roots
Understanding the historical context of the holiday adds depth to your celebration. This tradition traces its roots to the Aztecs, who believed in an afterlife ruled by the goddess Mictecacihuatl. The Aztecs celebrated a month-long festival dedicated to the dead, illustrating the profound connection between their culture and honoring the deceased. This rich history is an integral part of the Dia de los Muertos tradition.
A Fusion of Cultures
With the arrival of Spanish conquistadors in the 16th century, a fascinating fusion of cultures took place. The Catholic Church sought to merge indigenous traditions with Christian practices, leading to the integration of Day of the Dead with All Saints' Day and All Souls' Day. This collision of beliefs and practices created a unique and colorful celebration, which is now cherished by people worldwide.
Creating Ofrendas and Altars
One of the central practices during Dia de los Muertos is the creation of ofrendas (altars). These altars serve as a bridge between the living and the deceased, a place where families offer gifts and memories to their loved ones. They are adorned with marigold flowers, candles, incense, sugar skulls, and favorite foods and beverages of the departed. Encourage your customers to participate in this tradition by providing a dedicated space in your establishment for them to create their ofrendas, or by setting up a beautiful altar as a focal point in your business.
Sugar Skulls and Catrinas: A Feast for the Eyes
The tradition of crafting sugar skulls (calaveras) and elaborately dressed skeletons (catrinas) dates back to pre-Columbian times when indigenous cultures would use skulls as symbols of life and death. Spanish influence introduced the art of sugar skull making, a craft that has evolved into the colorful and intricate creations we see today. Consider hosting workshops or demonstrations to engage your customers in the art of creating sugar skulls and catrinas. This not only educates them about the tradition but also allows them to actively participate in the celebration.
Pan de Muerto: A Taste of Tradition
Pan de Muerto, or the "Bread of the Dead," is a staple of Day of the Dead. The circular shape of the bread represents the cyclical nature of life and death, while the bone-shaped decorations symbolize the ties between the living and the deceased. Include this traditional bread in your Dia de los Muertos offerings to offer your customers a taste of this important ritual.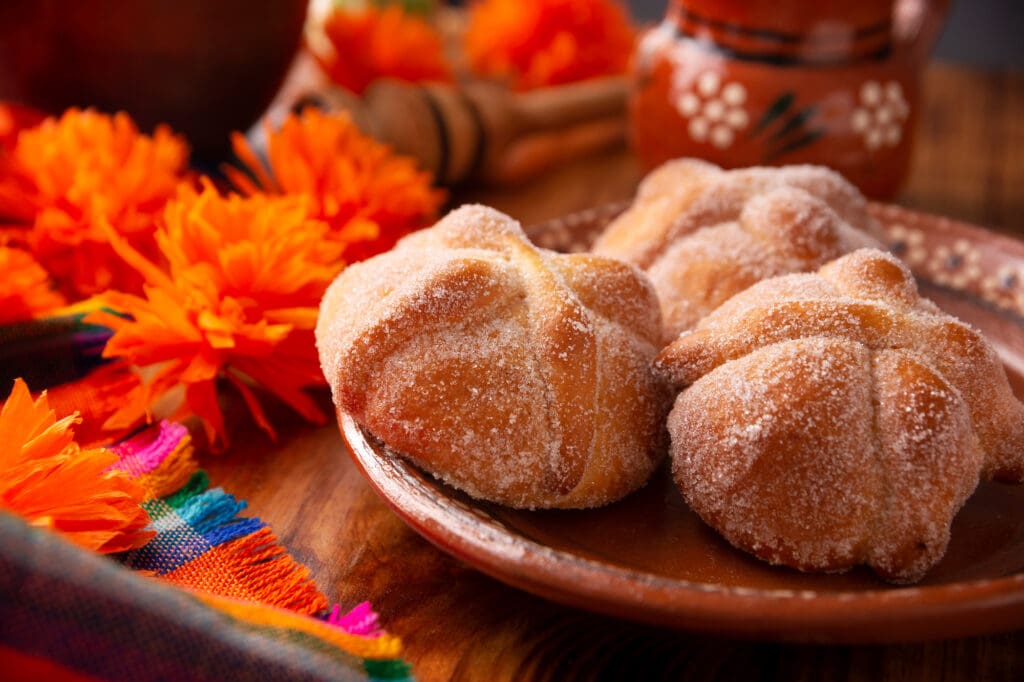 Fostering Community Connection
One of the most beautiful aspects of Dia de los Muertos is the tradition of visiting cemeteries to clean and decorate the graves of loved ones. Suggest to your customers that they continue their remembrance celebration at your business before or after their cemetery visit. This act of remembrance is a way to honor and celebrate the lives of those who have passed away, creating a strong sense of community and connection.
UNESCO Recognition: Preserving Cultural Identity
In 2008, UNESCO recognized Dia de los Muertos as an Intangible Cultural Heritage of Humanity. This acknowledgment highlighted the significance of the holiday in preserving cultural identity and promoting community cohesion. By participating in and promoting Dia de los Muertos celebrations in your business, you contribute to the preservation of this rich cultural heritage.
Boosting Your Business with Dia de los Muertos
The economic impact of the holiday on Latin food and beverage businesses is undeniable. This celebration has the power to transform your business in several ways:
Increased Foot Traffic: As Dia de los Muertos gains popularity, more people are seeking out authentic experiences to celebrate. This leads to a surge in foot traffic to Latin businesses, especially those known for their traditional fare.
Specialty Menus and Events: Many Latin businesses create special  menus, featuring traditional dishes and drinks. Additionally, they often host events such as live music, art exhibitions, and themed parties, attracting a wider audience.
Community Engagement: Dia de los Muertos celebrations at Latin businesses serve as community gatherings, fostering a sense of belonging and unity. This strengthens the bond between the business and its patrons, leading to repeat business and positive word-of-mouth.
Boost in Sales: The influx of customers can lead to a significant boost in sales for Latin businesses. This increased revenue not only benefits the business itself but also contributes to the local economy.
Incorporate Tradition and Flavor into Your Business
Dia de los Muertos is more than just a cultural celebration; it's a vital event for Latin food and beverage businesses in the USA. By honoring the traditions and authentic cuisine associated with this holiday, these establishments create a special space for the Latinx community and attract a diverse range of patrons seeking an enriching cultural experience. As the popularity of Dia de los Muertos continues to grow, so does its impact on the success and visibility of Latin businesses, highlighting the significance of cultural heritage in the culinary landscape of the United States.
Incorporating Dia de los Muertos traditions and authenticity into your Latin food and beverage business can not only create a memorable experience for your customers but also significantly enhance your business's success. So, embrace this vibrant celebration, connect with your community, and reap the economic benefits it brings. Your business can be a gateway to preserving and sharing the rich cultural heritage of Dia de los Muertos with your patrons.
For more food & beverage industry insights focused on the Latin market, sign up for updates from Cocina Sabrosa.